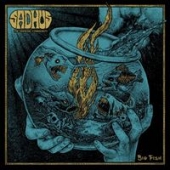 Sadhus. The Smoking Community
Big Fish
Label: Fuzz Ink
Genre: Stoner / Post Metal / Industrial Rock
Availability
Other Formats
In the year 1980,a green massive comet falls down to earth.Inside it a huge hairball, rotten,begins to inhale music,just perfect to its ears.Three mushrooms forced it in the psychedelic form of music and a Baba helped it in his gnosis.All five after a lot of intergalactic wanderings, decided to stay in earth as the embodiment of five earthly figures, keeping their genuine un-earthly music alive.

Their second full-length, recorded live in the sudio, in Corinth, Greece, is out now on Fuzz Ink and already making waves around the globe!

Limited edition, 300 copies.