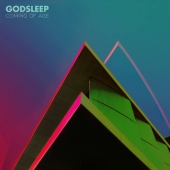 Godsleep
Coming Of Age
Label: Lab
Genre: Stoner / Post Metal / Industrial Rock
Recorded & mixed at Wreck it Sound Studios, July - October 2018.
Produced by Godsleep & George Leodis.
Engineered and mixed by George Leodis.
Mastered by Brad Boatright at Audiosiege Studios, Portland, OR.

Album Cover Directed by: Bewild Brother.
Cover Photo by: Amie Makris.

Green vinyl, limited edition of 150 copies.