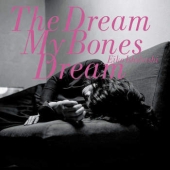 Ishibashi Eiko
The Dream My Bones Dream
Label: Drag City
Genre: Post Rock / Avant Rock
Availability
LP €26.99

Dispatched within 5-10 working days
Eiko Ishibashi's sixth solo album, 'The Dream My Bones Dream', rides the rails into a partly envisioned, partly imagined past. Eiko's previous songs-with-singing records explored the ambitions and intoxications of pop music - but never so dramatically as with 'The Dream My Bones Dream'. Here, her songs open up into reflections upon the vast spaces that exist between people as close as family members - in other words, reflections on the things we spend our whole lives drinking and cursing about.

It's been four years since 'Car and Freezer', a time during which Eiko has been steadily working, writing for stage and cinema, playing live and recording (and hanging out with her no- goodnik boyfriend!). In 2016, she toured Europe and released 'Kouen Kyoudai' (Editions Mego), a collaboration with Masami Akita. At Sinnerfama Lisbon later that year, she won the Best New Music Award for her soundtrack to 'The Albino's Trees'. In 2018, Black Truffle released 'Ichida', her collaboration with Darin Gray.

Amongst all this abject jet-setting and debauched gadding about, the music of 'The Dream My Bones Dream' started to gather. It began with the death of Eiko's father. Going through family effects in the aftermath, she found photos from a time she knew nothing about: her father's childhood. A taciturn man, he had never discussed this period of his life. As it transpired, it took place in an infamous setting of recent Japanese history, the occupation of China's Manchurian region in the 1940s. In the light of this, questions about Eiko's lost family history took on a larger resonance - the ever-changing relationships between people and places in our lives.

On The Dream My Bones Dream, as with Eiko's previous albums, the diverse sounds within the musical arrangement and the qualities of Jim O'Rourke's mix are crucial to the achievement. 'The Dream My Bones Dream' is a record of exquisite musicality and deep emotions, a travelogue pointed towards a time hopefully better than the future we see coming down the line.