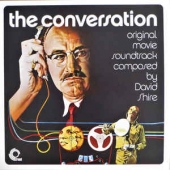 Shire David
The Conversation
Label: Trunk
Genre: Soundtrack
Availability
LP €24.99

Dispatched within 5-10 working days
This is the first time the complete score to The Conversation has been released on vinyl. The film itself was originally released in 1974 and a 7" demo of the theme was sent out as promotional material by Paramount (PAA-0305), but a USA stock edition was never issued. In Japan the same music was also issued on a 7" at about the same time (JET-2273), with a picture sleeve, but until now nothing else has ever been pressed on vinyl.

Jonny Trunk's little obsession with this music began after I'd caught the film, late night, sometime in the mid 1990s. Musically it's an exceptional example of the "new minimalism" in film music of the period, marking a departure (for some) from big scores to smaller, more economic ensemble sounds.

The film was written, produced and directed by Francis Ford Coppola and is still a thrilling journey into sound, mind and murder. Heavily influenced by Antonioni's Blow-Up (and not, as some thought, by Watergate), Coppola wanted to fuse the concept of Blow-Up with "the world of audio surveillance". The story centres around Harry Caul (Gene Hackman), a mac-wearing professional wire-tapper and clandestine bugger who gets unusually consumed by a conversation he's been paid to record. Caul is a loner, an obsessive-compulsive character with numerous neuroses that play out brilliantly throughout the film. And as he slowly pieces together the conversation fragments and forms his own story around it, his world falls apart.

Sonically this movie – all about sound - is groundbreaking in many ways, with actual "sound design" provided by the legendary Walter Murch - the man who actually invented the term in the first place.

For the music, Coppola wisely chose a young David Shire, his brother in law. Shire's deceptively simple piano theme (composed because of no budget for big orchestra) is one of tragic beauty, brilliantly capturing Caul's loneliness, his slightly disturbed nature and this trip into darkness. The melody has both sweet and sour tones, feeling a little like a slow ragtime, which both develops and retreats throughout the film; there are even trips into avant-garde territory with electro-acoustic flourishes and concrète. The solo, agitated figure of Caul, wearing his distinctive transparent mac, is made all the more raw and poignant by the score - the sparse and curiously emotional compositions are unlike any others I can think of from the period.

The soundtrack for The Conversation proved to be a major break for Shire, his career really taking off from this musical point. His next score was to be the underground classic Taking Of Pelham 123, followed up later ironically by All The Presidents Men - a thriller about the Watergate scandal.

The Conversation went on to win several awards and nominations, and has become a classic of the "New Hollywood" movement. Hopefully now this music may become part of the renewed interest in old film soundtracks.