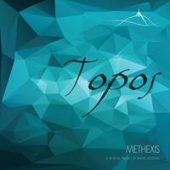 Methexis
Topos
Label: Methexis
Genre: Rock / Pop
Availability
Other Formats
After 2 CD releases, Methexis, a "loose ends" band formed around prog-rock mogul Nikitas Kissonas, have done it again. "Topos", their third studio album, is due out on vinyl and CD and is going to make any serious art-rock lover melt with joy. Two side-long tracks that recall the finest from the past, still carrying some timeless quality that make Methexis one of the finest exponents of the art of progressive rock.

The album is titled Topos and it consists of two 20-minute instrumental epics. Musically, it covers a wide range of genres, typical of Nikitas Kissonas' style, and the two pieces are composed in such way as to create two completely different musical journeys. The album was recorded with Nikitas on the guitars, bass, keyboard and other plucked instruments, Theodore Christodoulou (Level X, The Storyville Ragtimers) on drums, Nicolas Nikolopoulos (Ciccada) on the flute, Konstantinos Kefalas on the trumpet and Panagiotis Krabis on the grand piano. The mixing was done once again by Leonidas Petropoulos and the artwork was designed by Anouk Arra.

The new album will be released in physical (Digipack CD and Vinyl-including limited copies in white vinyl) and digital form. With any purchase of the Topos the buyer will also have access to a special digital edition of the album with the two tracks sliced into 13 parts! A live presentation of the album is being organized together with many amazing musicians in a special event that will be announced soon enough.