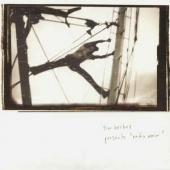 Hecker Tim
Radio Amor - Reissue
Label: Kranky
Genre: Electronica / Ambient / Experimental
Availability
LP x2 €32.99

Dispatched within 5-10 working days
This is the first reissue of Tim Hecker's classic 2003 album. The original recordings were remixed by Tim Hecker and mastered by Matt Colton at Alchemy Mastering.

Reissue of classic 2001 album by renowned ambient / noise / electronic artist.

Received acclaim upon release, including Pitchfork giving it a 8.3.

Originally released on Alien8 and now long out-of-print.

press quotes for Radio Amor:

"Hecker at his most painterly and evocative." Pitchfork

"Radio Amor has a simultaneous tangible/intangible quality that is both miraculous and enigmatic." Tiny Mix Tapes

"Tim Hecker may be the finest sonic photographer around, the re-release of Radio Amor being further evidence for this claim." Brainwashed

"Hecker's 2003 standout is a stirringly emotional narrative, without the slightest aid of a single voice." Treble

"A slow-shifting mix of steely headrush and protracted morse code dispatches from the bottom of the ocean." Dusted
also available..