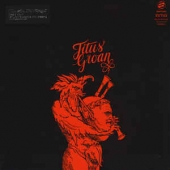 Titus Groan
Titus Groan
Label: Music On Vinyl
Genre: 60s / 70s Rock / Pop / Progressive / Kraut
Availability
LP 180gr Audiophile €20.99

Out of Stock
Music On Vinyl proudly presents a re-issue of the much sought after debut (and only) record from 70's prog-rocker Titus Groan.

All the clichés that represent prog are present: 11-minute songs, schizophrenic changes, and the addition of medieval-inspired woodwinds. Hints of the Pretty Things' SF Sorrow are to be heard in some of the vocal arrangements, and the poppish elements of "It's All Up With Us" are indeed very good.

A must have for the die-hard prog fan.