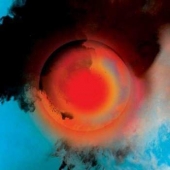 Mellano Olivier With Perry Brendan
No Land
Label: World Village
Genre: Dark / Post Punk / Gothic / Neo-Folk
Availability
LP €21.99

Dispatched within 5-10 working days
Other Formats
In terms of Olivier Mellano's highly eclectic career, which has already taken him down various different tracks (violinist, rock then avant-garde guitarist, composer, producer and even random project designer), the new 'No Land' project is a particularly innovative step for an artist who ceaselessly zips back and forth between the worlds of pop, multimedia and a certain kind of contemporary music.
Set up in 2015, this project is at the crossroads between music termed 'contemporary' and new music, as well as playing with the codes of traditional music. Scored by Olivier Mellano, it lasts almost forty minutes and calls on an impressive array of musicians. Mellano plays the bass, alongside Brendan Perry, the singer from the famous British / Australian duo Dead Can Dance, as well as the Bagad de Cesson-Sévigné, an ensemble of thirty musicians playing bombards, bagpipes and percussion instruments, not to mention a choir with twenty singers.
The ensemble, which draws on traditional music but also present day rhythms and flashes of sound, is fascinating and, as well as weaving together Olivier Mellano's multiple musical roots, it conceals a political and philosophical manifesto.