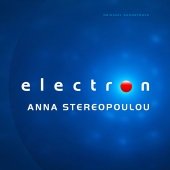 Stereopoulou Anna
Electron
Label: Private Press
Genre: Electronica / Ambient / Experimental
Availability
CD Digi / Cardboard €9.99

In Stock
«Whispers, voices, outcries…
The volume gradually increases and it finally knocks on your door. Will you open?»
The theme-based project / album, electron [ἤλεκτρον - ḗlektron] by Athens-based composer Anna Stereopoulou is inspired -on a scientific basis- by the structure and function of the Human Ear & the Balance of Body, whilst its main aim is the flow of the inner energy of the audience-spectators, having as parallel source of inspiration the elements of Water & Electric Spark / Power, as well as those of Sound & Light (i.e. Cochlea's & Labyrinth's function – Inner Ear).
With Piano as its core instrument, frequently enriched with Electronic rhythms - ambiance and Poetry, the music is influenced by various genres -such as Musique Concrète, Drum'n'Bass, Classical, Jazz, Dubstep, Fado, Techno and other- and draw the course into a labyrinth, which gradually becomes and unfolds more and more bright, via its visual translation.
The album consists of 7 tracks, plus 2 Bonus tracks, composed between 1998-2017 and mixed anew especially for its release [November 2017]. electron [ἤλεκτρον] by Anna Stereopoulou is the 2nd work of her concept-project trilogy ["…oneirograph…v.5.spindle : live in italy" (2009-2010) - "electron" (2011) - "c i r c e :the black cut:" (2014-2016)], giving life to her latest project, titled SYN, as premiered at the "Teaching Hall of the Music Library" at Megaron – The Athens Concert Hall (May 30th, 2017 / Greece).
electron [ἤλεκτρον - ḗlektron] is the 5th solo album by the artist, and its music was first composed as a response to the event-series commission Anna Stereopoulou received by "Michael Cacoyannis Foundation" (Athens, Greece), where presented between November-December 2011.
«A mind game that aims to reach the moment you discover the key within your own hand..!»