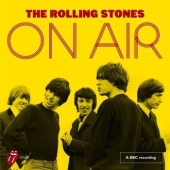 Rolling Stones
On Air
Label: Abkco
Genre: 60s / 70s Rock / Pop / Progressive / Kraut
Availability
CD x2 Digi / Cardboard €18.99

Dispatched within 5-10 working days
Deluxe double cd edition.
December 1st sees the release of The Rolling Stones 'On Air', an album full of BBC recordings from the 1960's which offers a unique insight into the formative days of the band.
This is the Stones where it all started, playing the music they loved so much – Blues, R&B and even Country.
Every track has been revolutionary restored via 'Audio Source Separation' and you will be able to hear the remarkable difference this makes to each song.
Tracklist:
Come On – Saturday Club, 26 October 1963
(I Can't Get No) Satisfaction – Saturday Club, 18 September 1965
Roll Over Beethoven – Saturday Club, 26 October 1963
The Spider And The Fly – Yeah Yeah, 30 August 1965
Cops And Robbers – Blues in Rhythm, 9 May 1964
It's All Over Now – The Joe Loss Pop Show, 17 July 1964
Route 66 – Blues in Rhythm, 9 May 1964
Memphis, Tennessee – Saturday Club, 26 October 1963
Down The Road Apiece – Top Gear, 6 March 1965
The Last Time – Top Gear, 6 March 1965
Cry To Me – Saturday Club, 18 September 1965
Mercy, Mercy – Yeah Yeah, 30 August 1965
Oh! Baby (We Got A Good Thing Goin') – Saturday Club, 18 September 1965
Around And Around – Top Gear, 23 July 1964
Hi Heel Sneakers - Saturday Club, 18 April 1964
Fannie Mae – Saturday Club, 18 September 1965
You Better Move On – Blues in Rhythm, 9 May 1964
Mona – Blues In Rhythm, 9 May 1964
Bonus Tracks (Deluxe)
I Wanna Be Your Man – Saturday Club, 8 February 1964
Carol – Saturday Club, 18 April 1964
I'm moving On – The Joe Loss Pop Show , 10 April 1964
If You Need Me – The Joe Loss Pop Show, 17 July 1964
Walking The Dog – Saturday Club, 8 February 1964
Confessin' The Blues – The Joe Loss Pop Show, 17 July 1964
Everybody Needs Somebody To Love – Top Gear, 6 March 1965
Little By Little – The Joe Loss Pop Show, 10 April 1964
Ain't That Loving You Baby – Rhythm And Blues, 31 October 1964
Beautiful Delilah – Saturday Club, 18 April 1964
Crackin' Up – Top Gear, 23 July 1964
I Can't Be Satisfied – Top Gear, 23 July 1964
I Just Want to Make Love To You – Saturday Club, 18 April 1964
2120 South Michigan Avenue – Rhythm and Blues, 31 October 1964