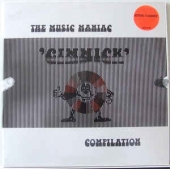 Various Artists
The Music Maniac " Gimmick " Compilation (Music Maniac)
80s Wave / Rock / Pop / Punk
Availability: In Stock.
Records: Very Good Plus
Cover: Very Good Plus
"The Music Maniac 'Gimmick' Compilation" presents 9 Gimmicks to the owner and listener of the record:
[1] Eleven unreleased tracks by eleven alive "Music Maniac" bands.
[2] Cut "Trick Track", with 3 parallel grooves on each side.
[3] Free board game included.
[4] Complete discographie inside.
[5] Clear vinyl pressing.
[6] No label.
[7] Spoken introductions.
[8] Gimmick cover cover with optical illusions(moving label-icon).
[9] Puzzle concept.

Order of tracks on each side is not certain due to parallel grooves.