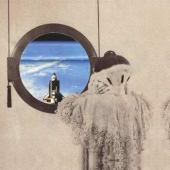 Cobra Family Picnic
Magnetic Anomaly
Label: Cardinal Fuzz / Sky Lantern
Genre: Rock / Pop
Cobra Family Picnic have been their reputation as one of Tucson, Arizona's premier psychedelic exports for the last three years, sharing stages with critically acclaimed bands such as Moon Duo, White Manna, The Myrrors, and Mugstar, and releasing a wonderful debut EP back in 2015. Originally formed by bassist Boyd Peterson and keyboardist Leslie Wood, the band has mined a rich vein of mantric, rhythmically-focused space rock that would have had heads bobbing at the Dom in '66 or Ibiza in '88, a sound that has perhaps reached its apex in their new, debut full-length, Magnetic Anomaly.
Over the album's forty-odd minutes, Cobra Family Picnic create a fuzzy, blissed-out haze that touches on an entire encyclopedia of underground psychedelia: the trance-inducing keys of Suicide, the post-Velvets go-go freakout of Les Rallizes Denudes, the smoky snake-song of early Doors, the pulsating locked grooves of Neu. We're talking eight mind-fried cuts of cyclical psychedelic minimalist jams, and when the NASA radio transmissions beam in across the grooves and Randall Demsey's echo-drenched vocals rend the darkness, you can start to feel your brain being teleported to the outer reaches of the universe.
Magnetic Anomaly is a Cardinal Fuzz and Sky Lantern record co-production, released on both limited blue/lilac recycled color vinyl and standard black vinyl, as well as in limited single-runs of Sam Giles vinyl-replica CDs and hand-numbered cassette. Members of the band recorded here include names from a host of other local Tucson psych ensembles, such as The Desert Beats, The Night Collectors, and Wight Lhite.