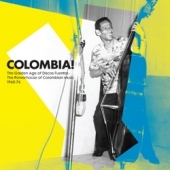 Various Artists
Colombia! The Golden Years Of Discos Fuentes - The Powerhouse Of Colombian Music (1960-76).
Label: Soundway
Genre: Freestyle / Nu Jazz / Funk / Afro
Availability
LP x2 €23.99

Dispatched within 5-10 working days
Limited repress.
Discos Fuentes (Fuentes Records) has since 1934 been the largest label in the vast country of Colombia, a place where music is impossible to escape. This collection concentrates on the golden years of 1960-1976 and is hand-picked by Soundway from a huge catalogue of hot, tropical music styles. Cumbia, Gaita, Fandago, Salsa and Champeta all feature in our selection from one of the world's best Latin music archives.