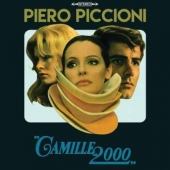 Piccioni Piero
Camille 2000
Label: Blind Faith Records
Genre: Soundtrack
Availability
LP x2 €27.99

Out of Stock
Rome, Aventino, one of the most amazing neighborhoods in the South area of the capital city. In an old garage, fully stored and preserved, tons of 1/4 inch tapes represent the monumental and brilliant work of one of the greatest composers of the twentieth century: the master Piero Piccioni.
Caring for, listening to, and taking stock is his son, Jason. We asked him to select three out of many; three chapters of the master's work, three scores to be rescued and brought to the light in all their expressive and communicative power.
Camille 2000 would be the first in the ongoing series. Never published until today on vinyl, it was carefully transferred from the original masters and embellished with several alternative takes and fragments that remained unpublished until now.
The work of restoration was performed by Giuliano Radiciotti, while the mastering was made by multi Grammy winner Brian Lucey.

"I remember when I heard this music for the very first time in my father's studio in the early 90s. It was truly something revolutionary. It sounded so contemporary that it seems it was written in those days. Can't believe it was twenty years before then, instead!"