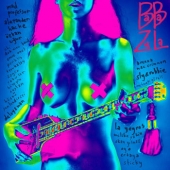 Baba Zula
Xx
Label: Glitterbeat
Genre: Post Rock / Avant Rock
Availability
CD x2 Digi / Cardboard €20.99

Dispatched within 5-10 working days
A kaleidoscopic, two-disc, career spanning compilation from Istanbul's revered psychedelic explorers. Esteemed collaborators include Sly & Robbie, Mad Professor, Dr. Das of Asian Dub Foundation, Alexander Hacke (Einstürzende Neubaten) and more. Without a doubt one of the planet's great musical adventures.

All too often these days, the world can feel like a dark and dangerous place. But music remains a light in the bleakness, offering a constant sense hope and joy and celebration. In Turkey the ominous shadows have been growing longer for several years but Baba Zula have been a shining beacon for 20 years, bringing the West and the Orient together in a glory of Istanbul psychedelia. To celebrate those two decades of existence, XX brings together tracks from across Baba Zula's history, along with a second album of dubs created by artists like Mad Professor. Dr. Das of Asian Dub Foundation, and Dirtmusic.

"We wanted to have a compilation that was a little different," explains group founder and electric saz player Osman Murat Ertel. "None of the pieces here are in their original forms. Instead, we picked remixes, re-recordings, collaborations, live tracks, all the possibilities, but none of these have been released before. And it's a mix of recording techniques – digital, analogue, tape, mp3."

Formed by Ertel and Levent Akman in 1996, Baba Zula took Turkish psychedelic pioneers of the 1960s like Moğollar as their inspiration and foundation for what they called Istanbul psychedelia, the fathers of a scene that's since grown up around them.

"Those original bands of the '60s grew out of traditional Anatolian music," Ertel says. "But the coups of the 1970s and '80s put an end to any experimentation. We picked up the reins to make music for the 21st century with electric instruments, effects, and machines, something contemporary and unique. I always tell people that they might not like us, but no one can say we're not original!"

Baba Zula came into existence when Ertel's previous outfit, ZeN, was asked to create a soundtrack by a director friend. Ertel and two other members were interested, and the band grew from that seed, with music for films very much a part of their output.

Since that small beginning, Baba Zula have played all over the world, won awards for their work in film and theatre, often been rewarded at the Turkish Billboard awards, and had their albums counted among the most prestigious ever released in Turkey. They've also built a global network of like-minded performers, experimental souls in all genres of music, working with people as varied as Turkish opera singer Semiha Berksoy, dub mixer Mad Professor, and Can drummer Jaki Liebzeit. And that, to Ertel, is one of the band's great successes.