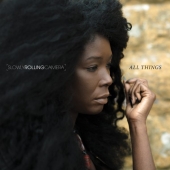 Slowly Rolling Camera
All Things
Label: Edition Records
Genre: Freestyle / Nu Jazz / Funk / Afro
Availability
Other Formats
At the heart of SRC is the exuberant, powerful and dynamic voice of Dionne Bennett: a commanding presence with a great heart, big voice and wondrous spirit. The power of the voices alone – the epic backing cushioning Dionne's multi-faceted gospel lead will send shivers down anyone's spine.

Lyrically too, experience – of loneliness, love, hope – informs the mood of the album: a series of honest observations about relationships and the human condition. The words are powerfully and sympathetically sustained by the music; the production is elaborate, but compelling.

From the soulful and intricate groove of Delusive, with its dense Moog motifs, to the monolithic electronic soundscape of Oblivion and the effervescent Scintillation, the lush Unsetting Sun to the soaring intricacies of The Brink – the songs on All Things push the boundaries further still and build on an already impressive canon of work – true testament to a collective musical talent.

And this is in no small part due to the democratic process of production and creation in the band. Keyboard player Dave Stapleton crafts those sumptuous melodies and strikes the perfect balance between the experimental and the band's deep soul origins. Dionne Bennett provides both lead & vocal harmonies with a presence and intensity that few others could match, marking her out as a genuine star of the future. Soundscape artist and producer on electronics Deri Roberts provides the substance and backbone of the group sound and Elliot Bennett generates his unmistakable combination of energetic drive and intricate groove from the drum stool.

Impressive in both scale and sound, Slowly Rolling Camera's new release All Things follows 2014's highly acclaimed self-titled album and the EP 'Into the Shadow from 2015. The new music sustains their lush aural trajectory, and has evoked comparisons with iconic groups such as Portishead, and Massive Attack. In the three short years since the band's formation, Slowly Rolling Camera have made a significant impact on the UK music scene and have toured throughout the UK and Europe, honing and developing their music and developing a bigger, more expansive and original sound.