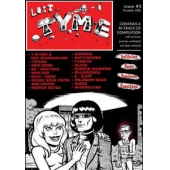 Lost In Tyme
#3
Label: Lost In Tyme
Genre: Rock / Pop
Availability
MAGAZINE + CD €5.99

In Stock
Get your copy now and enjoy exclusive interviews from ther best garage bands around the world:
Question Mark and The Mysterians,
Sick Rose,
Bo-Weevils,
Purple Merkins,
Vipers,
Mod Fun,
Waistcoats,
Rookies,
Glads,
Movements,
Evil Thingies VS The Way-Outs,
Teddy Boys From The Crypt,
Fabio (Hunchmen),
B-Back,
Fleshtones.

Articles about new bands like:
Cheaters,
Ravens,
Brain Drain,
Mojomatics,
Riots,
Phantom Keys,
Rockdoras,
Spinns,
Higher State

Articles about: Peruvian Rock of 60 and #8217;s, Ping Pong Records and a great article about the Underground Press from the 60 and #8217;s in USA. News and more than 70 reviews (Lp, 7 and #8221;, Cd, Fanzines and Dvd).
The #3 comes with a CD-r compilation with 30 amazing songs (the most unreleased) from the bands which are mentioned in this issue! All dressed with a great cartoon cover by Darren Merinuk!