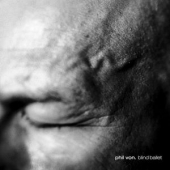 Phil Von
A Blind Ballet
Label: Ant Zen
Genre: Electronica / Ambient / Experimental
Availability
CD Digi / Cardboard €14.49

Dispatched within 5-10 working days
magic synth on bleeding caress by def, sounds on blind crystals by jérôme soudan.
mix, sound production & mastering by norscq.
photos & design by emilie salquèbre. layout by stefan alt.
a blind man feels his way, guided only by the sensations of sounds around him, walking through composite landscapes, sometimes concrete or musical, sometimes unreal, fictitious or synthetic, mutating constantly but layering like brushstrokes of sonic paint along his hesitant steps. from dusk to dawn, he wanders on a path sprinkled with touches of natural elements; water, air, earth, fire, glass, with the perceptions of humans; murmurs, breaths, crackles, snatches of voices, with manifestations of sudden granular waves or aural perfumes from unknown distant lands. here he perceives presences, there he guesses mysteries. maybe a bigger story is somehow slowly unfolding before his stimulated ears.
with this solo album, sprawling somewhere in between melodious electronica, lush ambient, musique concrète, and abstract experimental sounds, phil von took a break off von magnet's shores. now he confides within us these intimate imaginary ballets, inviting us to contemplate his invisible trances, some of which he composed for dance, street theatre and performance. twelve individual parts created for different occasions have been carefully concerted for this exceptional artist's first solo release since years. a captivating acoustic puzzle suitable to open up the listener's imaginary eyes. you are asked for a dance - please accept the invitation.