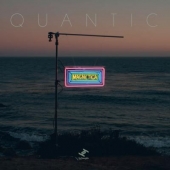 Quantic
Magnetica
Label: Tru Thoughts
Genre: Freestyle / Nu Jazz / Funk / Afro
'Magnetica' is the first studio album from Quantic under his main solo moniker since 'An Announcement To Answer' in 2006 so the anticipation is running high. He has, of course, been far from quiet in that time, with releases from many significant side-projects including The Quantic Soul Orchestra, Quantic and his Combo Bárbaro, Flowering Inferno, Quantic & Alice Russell, and Ondatrópica, and a host of thrilling live bands to match.</p>
<p>The 'Magnetica' album is a truly exciting listen, taking in all the influences that trailblazing troubadour Will "Quantic" Holland has soaked up from his travels - including the last seven years spent living in Colombia - and collaborations with musicians from Latin America, Africa, the Caribbean and beyond; blended with the innate talent for trend-setting electronic club music that has always made him one to watch.
The first official single from the LP, announced among much fanfare, with a video premiere on *PITCHFORK/THE GUARDIAN/??* is "Duvidó" featuring Angolan born, Portuguese resident singer Pongo Love. The fiery vocal delivery, and lyrics in Portuguese heavily dosed with slang from Portugal and Angola, makes this intoxicating party cut all the more unique.</p>
<p>The eclectic array of guests to appear on the 'Magnetica' album also includes Alice Russell, Shinehead, Nidia Góngora, Dereb The Ambassador, Thalma De Freitas and Anibal Velásquez.
For the new album Quantic has put together a bespoke live outfit which is simply known as the Quantic live band, so look out for dates soon.