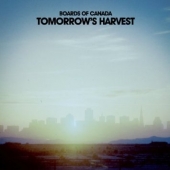 Boards Of Canada
Tomorrow's Harvest
Label: Warp
Genre: Electronica / Ambient / Experimental
Availability
LP x2 €22.99

Dispatched within 5-10 working days
Boards Of Canada, one of the most respected and influential electronic artists of recent times, return with their first album in eight years.



'Tomorrow's Harvest' consists of 17 new tracks and is available as a special 'Artcard Edition' CD (digipack in amended sleeve with three artcards, exclusive to independent retailers), standard digipack CD, and gatefold double LP.



The album's release was teased by a number of clues which appeared across a week online (YouTube), on radio (Radio 1 & NPR), on TV (Adult Swim / Cartoon Network) and offline (mysterious 12"s in record stores around the world, an audiovisual installation in London). Speculation around these clues resulted in over 45 million impressions across Boards Of Canada articles, sites and social networks, including 17,000 Tweets about the release and half a million impressions of Warp's own posts about the project. Since announcement, the record has raced up album preorder charts worldwide, with the original 12" clue now reaching auction prices of £2500+.



Newspieces have appeared daily throughout the campaign on countless sites including FACT, Pitchfork, Sky News, The Guardian and many more. The announcement was also marked with a special announcement on Radio 1 and 6Music News.