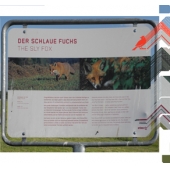 Heenan Chris / Lazaridou - Chatzigoga Dimitra
Der Schlaue Fuchs
Label: More Mars
Genre: Jazz / Avant Garde
nous series No#5, limited edition of 120 copies 3"inch cdr, full color envelopes with hand-drawn cd-rs
The collaboration between Chris Heenan and Dimitra Lazaridou-Chatzigoga started about a year ago as they were going to perform together for the last day of a photography event in Berlin. The event was supposed to take place in a swimming pool and did not take place after all but the two musicians continued to play together and after a short while they performed as a trio, with the addition of Ferran Fages (with whom Dimitra performs as a duo as Ap'strophe), for two consecutive nights at Sowieso, in Berlin. From the sessions between the two musicians at that period surfaced the 17 minute long improvised "der schlaue Fuchs" that we are very happy to present you via the more mars team's nous series. In this recording session Chris plays the contrabass clarinet using extended techniques, often incorporating multiphonics with surprising results. Dimitra experiments with the zither extending its sonic possibilities by preparing its strings making use of various objects detached from their usual usage, as well as of electronic media as the e-bow.

Chris Heenan (Washington D.C., 1969) lives in Berlin is an active composer/performer and organizer of experimental music. He performs on alto saxophone, contrabass clarinet and analog synthesizer in contexts ranging from solo to large groups and in various ongoing projects. Also he is founder of REIFY record label.

Dimitra Lazaridou-Chatzigoga (Thessaloniki, Greece 1981) is currently based in London. She is active in the field of experimental, electro-acoustic and improvised music. She plays the zither, an old folk instrument, trying to remap its territory, by making use of various objects detached from their usual usage, as well as of electronic media such as the e-bow. She is particularly interested in the co-articulation of acoustic and electronic sounds on the resonance box of an instrument. She has recently played with Lucio Capece, Angharad Davies, Axel Dörner, Anastasis Grivas, Ferran Fages, Franz Hautzinger, Robin Hayward, Chris Heenan, Grundik Kasyansky, Tisha Mukarji, Ivan Palacký, Henrik Olsson and Olivier Toulemonde among others.
This is a limited edition cdr of 120 copies. Full color envelopes with hand-drawn cd-rs.