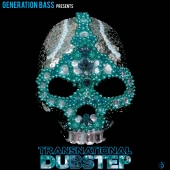 Various Artists
Generation Bass Presents Transnational Dubstep
Label: Six Degrees
Genre: Electronica / Ambient / Experimental
Availability
CD Digi / Cardboard €18.99

In Stock
Transnational Dubstep is the first major compilation to document the fusion of dubstep and global roots music. It has been conceptualized & compiled by co-owner/editor & the driving force behind the Generation Bass blog, DJ UMB in cooperation with Six Degrees Records. The record pulls together some of the most exciting new producers in electronic music who are incorporating sounds from around the planet with the bass bin shaking thump of dubstep.
By utilizing influences from Cumbia to Balkan- Chinese to Indian- Middle Eastern to Japanese- the songs on this unique collection represent the cutting edge vanguard of a whole new electronic sub-genre that is ready to capture the ears and imaginations of listeners world-wide.

DJ Umb and his partner Vincent Koreman (co-owner/editor & founder of the blog) had the arduous task of choosing from over 300 tracks locked inside DJ Umb's Transnational Dubstep vault. The pair narrowed the tracks down to 30 for licensing and then Umb finalized the selection and sequencing.
The idea for the compilation came from the success of DJ Umb's underground mixtape series "(India/China/Sufi/World) Calling", which contained dubstep with traces of African, Balkan, South American, Indian and Middle Eastern vibes. These mixtapes also caught the attention of Bob Duskis, of Six Degrees, who was already a huge admirer of the Generation Bass blog. Thanks to him, this partnership, between Generation Bass and Six Degrees, for this compilation was born.