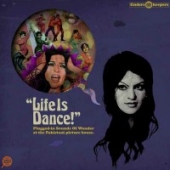 Various Artists
Life Is Dance
Label: Finders Keepers
Genre: World Music
Availability
CD €16.99

Dispatched within 5-10 working days
Once again, Finders Keepers Records are given unparalleled access to the EMI Pakistan vaults to bring 'Life Is Dance', the follow-up to 2010's critically acclaimed groundbreaking Lollywood cinematic pop compendium 'The Sound Of Wonder!'.
Licensed exclusively through the EMI Pakistan archives in Lahore and re-mastered from the original reels.
Here you'll find fuzzy, scuzzy, twang-happy, spaced-out and funked up Urdu-grooves complete with harmonium melodies and driven by some of the most random, freakish, finger numbing percussion that the South East Asian mainstream has ever had to offer.