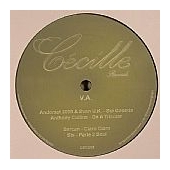 Various Artists
No. 5
Label: Cecille
Genre: Techno / Tech-House / House / Trance
ANDOMAT 3000 & SVEN UK / ANTONY COLLINS / SERCAN / SIS

After the huge success of Andomat 3000`s "vertical smile",
best Techno Track of the WMC 2008 and the latest
Release from Markus Fix "cannibals", Cècille returns with
the their first various artists Sampler on Vinyl. This four well
selected and pathbreaking tracks sounds very impressive,
from percussive House up to pumpin` minimal House and
Techno, this will be a weapon and a very playable Release
for all the DJs. Starting with Andomat 3000 & Sven U.K.`s
contribution "sui generic" which is a straight pumpin` Track,
who combines short saxophone sounds and Housechords
on a driving baseline, it is a minimal tightrope walk
between House and Techno. Followed by Anthony Collins
which introduces into another, going deeper and
percussive ambience. His groovy track "dè a tricorter" with
the vocal samples, the moony piano and his kickin` ass
bassdrum could be a perfect opener for all this open air
terraces of the world and otherwise a brilliant "bring you
down" from the rave at 6 a.m. in the morning….