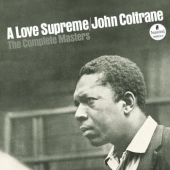 Coltrane John
A Love Supreme - The Complete Masters (Impulse)
Jazz / Avant Garde
LP x3 €31.99
Sorry, currently out of stock.
After the 2CD and 3CD release of John Coltrane's legendary A Love Supreme: The Complete Masters, this release is now available on Vinyl, after much demand from consumers. Originally released in 1965, A Love Supreme changed music history, cementing the saxophonist's reputation as one of the most groundbreaking musicians in music, and was subsequently ranked No. 47 in Rolling Stone's "500 Greatest Albums Of All Time". Until now, the complete picture of what happened during the album's recording session, held on December 9th 1964, has never been revealed.
The Complete Masters celebrates the 50th anniversary of the original album release, and finally collects all the previously unavailable outtakes, overdubs, and studio chatter from the session. This will be the same as the previous CD release just without the live album. It will include a 20 page booklet.