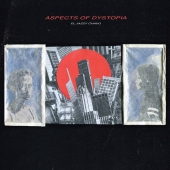 El Jazzy Chavo
Aspects Of Dystopia
Label: Funkypseli Cave
Genre: Freestyle / Nu Jazz / Funk / Afro
Availability
LP + MP3 COUPON €20.99

Out of Stock
Other Formats
Aspects of Dystopia is the sixth solo instrumental album by the producer El Jazzy Chavo. This album is packed with hard knocking drums, fat basslines & atmospheric melodies. Based on the classic methods and techniques, new aspects of this art come to the surface.

"Inspired by the urban routine, the everyday life misery, the working class struggle, the low-life cats that conquer the city. Aspects of dystopia, aspects of reality."


All beats produced & mixed by El Jazzy Chavo
Collage art by Tipotati
Art direction by Funkypseli Cave

Limited edition of 300.
Black vinyl.
HQ printed 350gsm sleeve with 3mm spine.
Including download card & stickers.