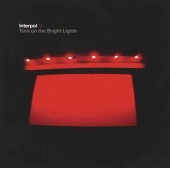 Interpol
Turn On The Bright Lights - Vinyl Reprint
Label: Matador
Genre: Rock / Pop
With their expansive sound, dark wit, and a flair for the dramatic, Interpol have gone from being one of the New York City's most talked about new bands to becoming one of America's most exciting and acclaimed. Fulfilling the promise shown on their three previous EPs, Interpol's full length debut, Turn On The Bright Lights, establishes the quartet as a major force despite their brief tenure. It is a filler-free, fully realized statement of intent; few debut albums have sounded this confident or displayed as much emotional range.

Singer/guitarist Paul Banks' angelic exterior belies his twisted lyrics and macabre vocals. Bassist Carlos D. carries much of the mood; while his forceful approach reflects early influences John Paul Jones (Zep) and Clifford Lee Burton (Metallica), other faves like John Taylor (Duran) and Simon Gallup (Cure) are more evident in his rubbery, melodic playing. Daniel Kessler's guitar cuts it straight down the middle with an incredibly atmospheric sound, owing as much to current electronic music as the pop bands of his youth. And though Interpol technically formed in 1998, it wasn't until Sam Fogarino replaced their original drummer in 2000 that they developed the focus and authority that characterizes their current sound.

Turn on the Bright Lights was created at Connecticut's Tarquin Studios in November 2001, recorded by Pete Katis and mixed by Gareth Jones (Clinic, Depeche Mode). Tarquin Studios occupies the top floor of a 150 year-old house which once served as a hospital for mentally impaired children, and where the Interpol boys felt strangely at home. Of the intense recording schedule, Dan remembers, "The 'Outside,' as we called it, took on mystic proportions by the end. We hadn't had any contact with anyone but ourselves for a few weeks, so when someone went out to the store or for a walk, it was like they were venturing out into the wild. It was authentic cabin fever."