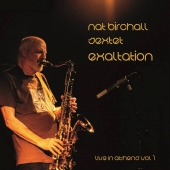 Birchall Nat Sextet
Exaltation - Live In Athens
Label: Parafono Records
Genre: Jazz / Avant Garde
In October of 2018 Nat Birchall took his quartet to Athens for a series of three concerts. On the final night they were joined by two Greek musicians, ney player Harris Lambrakis and drummer Nikos Sidirokastritis. (The ney is an ancient end-blown flute which is at least 4,500 years old and was played in Ancient Egypt.) Both musicians play together regularly in the Harris Lambrakis Quartet, which operates in a musical area not dissimilar to that of Nat's groups, so their coming together was a natural occurrence and produced music of a particular beauty. The sextet played compositions both by Nat and also by Harris and Nikos, this first volume of recordings from that night showcases one by Nikos and two by Nat.

Side 1 has Nikos' 'For Michalis', which was composed as a eulogy for a lost friend. The side-long track opens with a sensitive drum duet before Harris' ney introduces the haunting melody. The song features all the musicians in turn, moving through many different moods of varying intensity, giving the piece a suite-like quality.

Side two opens with Nat's 'Exaltation' which is a new, previously unrecorded song which beautifully conveys a feeling of elation. The exalted mood is upheld throughout the song and the tumbling, free meter adds to the sense of joyous abandon. The final song, 'Humility', is more intense in its execution, the title of the song refers to the need to let go of the ego in order to allow the music to speak for itself.

All the musicians in the sextet play with the confident yet humble approach needed to create music of such stately beauty. They allow the music to find its own level and respond to its demands as the energy swells and diminishes as each song develops. This is music of subtlety, strength, happiness, sadness, and all the other human emotions that we experience in our lives. It's a celebration of the triumph of the human spirit and a search into our innermost feelings in the form of wordless songs, played in the company of a listening audience who, by their presence and rapt attention, added to the power of the music as it unfolded before them.

This is a strictly limited edition of 500 copies, pressed on 180g vinyl.