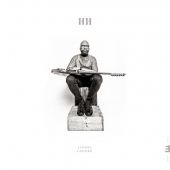 Loueke Lionel
Hh
Label: Edition Records
Genre: Jazz / Avant Garde
Availability
Other Formats
HH is the brand new album from Lionel Loueke playing the music of his long-term mentor, the legendary Herbie Hancock.

Lionel Loueke is one of the most singular, compelling and innovative artists of his and any generation on the international scene.

Known for his ability to "transform the guitar into a virtual Afro-Western orchestra" (Jazz Times), he is a musician who transcends genre to create unparalleled sounds.

In a deeply personal tribute, Lionel takes Herbie's best-known compositions (including Cantaloupe Island, Watermelon Man and Rock It), and creates something entirely fresh and new.