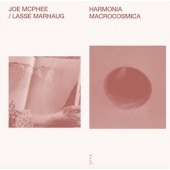 Mcphee Joe / Marhaug Lasse
Harmonia Macrocosmia
Label: Smalltown Supersound
Genre: Jazz / Avant Garde
Even at the age of eighty — Nation Time is fifty years old — Joe McPhee refuses to stand still or bask in nostalgia. For all its lovely strangeness — for a start, besides playing, he sings and recites — this LP elaborates lineages in his oeuvre initiated with John Snyder in the seventies, and sustained with Pauline Oliveros.
Lasse Marhaug is an old hand, young at heart, too. After thirty years of making electronic music — hundreds of releases, collaborations and projects — his name is synonymous with Norwegian noise music.
A one-of-a-kind, highly enjoyable, compelling mixture of free jazz and electronics, inspired by science fiction and early electronic music.