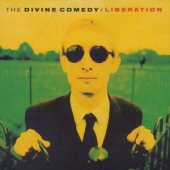 Divine Comedy
Liberation
Label: Divine Comedy
Genre: Rock / Pop
Availability
CD x2 Digi / Cardboard €15.99

Out of Stock
Other Formats
Liberation was the band's first full album. Released in 1993 it achieved few sales but plenty of critical acclaim. The NME described it as "an array of seductive yarns.. glorious, gleeful tunesmanship." Dave Cavanagh, writing in Select said "..one of the bountiful, overflowing joys of the year. Any year." Melody Maker described it as "An album that could make any listener want to stumble up to him and proclaim 'Neil, you're a genius'". Tracks such as Your Daddy's Car, Europop, and Lucy are fan favourites still performed live by the band to this day while Pop Singers Fear Of The Pollen Count was released as a single from the 1999 "Best Of."

The album has been remastered from the original tapes at the legendary Abbey Road Studios by mastering engineer Frank Arkwright (Blur, The Smiths.) Overseeing the audio throughout the campaign is engineer/mixer/producer Guy Massey, whose work on the Beatles Stereo Remasters won him a Grammy Award.

The CD release consists of 2 discs: the original remastered album, with a second CD of b-sides, demos and alternate versions lovingly curated by Neil Hannon, much of which has never been heard before. The CD comes with a booklet of photos, credits and extensive liner notes written by Neil covering the context and inspiration behind the album and its songs.