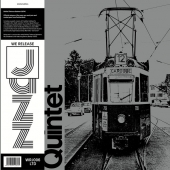 Boillat Therace Quintet
Boillat Therace Quintet
Label: We Release Jazz / We Release Whatever The Fuck We Want
Genre: Jazz / Avant Garde
Swiss jazz bliss!

We Release Jazz is very, very, VERY happy to present its sixth release (following Ryo Fukui's Scenery and Mellow Dream, Le Cercle Rouge's soundtrack by Eric Demarsan, Stuff Combe 5 + Percussion, and Marc Moulin's Placebo Live 1971) coming straight from its beloved hometown of Geneva. Boillat Thérace Quintet's self-titled album is available for the first time since its original limited private pressing in 1974.
Full of prolific and inspired local clusters and boosted by the recently launched Montreux Jazz Festival, the Swiss jazz scene was vibrant and inventive in the 1970s, notably in the region surrounding Lake Geneva. This is precisely where jazz activist and brilliant pianist Jean-François Boillat and wind instrument master Raymond Thérace formed their quintet whose dazzling debut album was recorded in 1974.

An absolute Lemanic gem of the soul-jazz/modal kind, the self-titled album includes superb covers of Freddie Hubbard's "Straight Life", Keith Jarrett's "In Your Quiet Place", and Rahsaan Roland Kirk's "Sweet Fire", plus groovy original compositions from the Boillat-Thérace crew. Helvetian fun facts: the velvety "1224" is dedicated to Geneva's public transport line Tram 12, and one exquisitely funky track on the album is named after the famed yet elusive (and locally legendary) Swiss Marmite: "Cenovis"!

This is reissued in conjunction with Boillat Thérace Quintet's My Greatest Love featuring Benny Bailey (1975), also available via We Release Jazz.