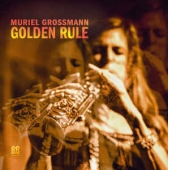 Grossmann Muriel
Golden Rule - Vinyl Reissue
Label: Rr Gems
Genre: Jazz / Avant Garde
Availability
LP x 2 200gr €31.99

In Stock
'Music is not material, Music is Spiritual'. With this one line from what may be his earliest poem[1], Sun Ra sets before our minds what our ears and heart know to be true: music is a power, a force, and a mystery that can change our way of being, our way of knowing. Music is spiritual. And while the roots of jazz grew from spiritual traditions, it was the music of Sun Ra from the 1950s and especially John Coltrane's recordings from the mid-1960s that defined spiritual jazz as we know it today. Modal, improvisational, meditative, testifying, droning, polyrhythmic and blazing, spiritual jazz opens the mind to complexity that is simple and simplicity that is complex.

Spiritual jazz has a long line of master practitioners, from Coltrane's contemporaries including Albert Ayler, Ornette Coleman, Cecil Taylor, Yusef Lateef and Pharoah Sanders, to contemporary artists like Nat Birchall and Shabaka Hutchings. Muriel Grossman's immersion in the powers and traditions of this particular current of jazz has been developing through her last several albums and here in 'Golden Rule' she and her band draw deep on the musical practices that evoke the transcendent.

Muriel Grossman was born in Paris to Austrian parents and grew up in Vienna where she started classical studies on flute at age 5. When she switched to saxophone and jazz at age 21, she says she learned mostly from listening to records. She also credits German jazz pianist Joachim Kühn, with whom she later studied, as having a great impact on her musical directions. Her sources of inspiration are wide and include a range of jazz giants from saxophonists such as Eddie Lockjaw Davis to guitarists like Grant Green. However, the symbiosis of sounds that she creates on this album – with Serbian guitarist Radomir Milojkovic, Austrian bassist Gina Schwarz, and Serbian drummer and percussionist Uros Stamenkovic – remains most closely aligned with the works of Coltrane.

The spirit in sound which this group creates will be realised in different ways for each listener. Personally, I'm hooked from the microtonalities which open the first track and whisper of the insights and illuminations to come; within a few seconds the guitar, bass and drums have conjured a shimmering landscape across which the soprano saxophone sets off, as if on a quest, or a journey of discovery. On every track, Milojkovic's pointillistic guitar work is spellbinding. There is also a kind of 'hidden mystic', as Grossman describes it, to each number, the result of judicious, almost subliminal, drone instrumentation that rewards repeated listening. There are deep pools of peace and reflection as in the slow and meditative 'Direction', with Grossman on tenor and a probing bass solo by Schwarz. And always, above, below, around, there is the spirit of Coltrane.

The album title 'Golden Rule' signals a commitment to reciprocity and respect: 'do unto others as you would have them do unto you'. This basic premise of social harmony and human dignity is common to both religious traditions and humanist principles, and it is this belief in our ability to create cooperatively and to live in peace that underlies the beautiful sounds of this album.