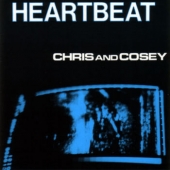 Chris And Cosey
Heartbeat
Label: Conspiracy International
Genre: 80s Wave / Rock / Pop / Punk
Originally released to much acclaim in 1981 by Rough Trade 'Heartbeat' was the first in a long line of groundbreaking albums by Chris Carter & Cosey Fanni Tutti. This early example of Chris & Cosey features cut-up sampled voices, Cosey's disto-guitar, Industrial sequences, melodious synths and cinematic sweeps.

"There are moments of great beauty like 'Moorby' and, equally, many moments of sheer depravity all performed with Kraftwerk's cultured class and the hypnotic charm and deadly grace of a synthesised cobra." Steve Sutherland - Melody Maker 1982.

"All the world loves a love story… but 'Heartbeat' still has an edge of evil among the extensions of the pair's established scenarios." Sandy Robertson - Sounds 1981

Purple vinyl.