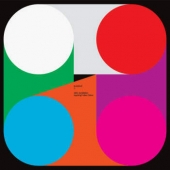 Krokofant With Stale Storlokken And Ingebrigt Haker Flaten
Q
Label: Rune Grammofon
Genre: Post Rock / Avant Rock
Availability
LP + CD €22.99

Out of Stock
As David Fricke points out in his liner notes, this is not just another novelty guest-project, the Krokofant on 'Q' is like a brand new band. In fact, all the involved are so happy with this album that there´s bound to come more, with a bunch of new material already written. After three albums in three years as a trio, and sensing the possible danger of being stuck in a formula, they all felt a need to try something new, taking the band one step further. Especially Tom Hasslan, guitarist and main composer, felt an urge to expand the canvas and sonic possibilities. Ståle Storløkken (Elephant9, Supersilent, Terje Rypdal) was the trio´s first choice for a keyboardist. He
had seen Krokofant live in 2015 and, in his own words had an instant kick so he said yes straight away. Ingebrigt Håker Flaten (Scorch Trio, The Thing, Atomic) had seen them the same year, and after a few aftershow beers practically invited himself to join up at some time.

Hasslan´s tunes are perfect vehicles for Storløkken to present the full scope of his playing; from sheer pastoral beauty to full on jazz skronk. The same can be said about Mathisen, who is given ample room for soloing (check the final part of the last track for ecstatic intensity). The tunes are also rich in harmonic structures and melodic hooks, and with the distinctive sax/organ combination it´s difficult not think of Van der Graaf Generator in their prime. By introducing Håker Flaten and his bass, work was lifted from Hasslan´s shoulders while a proper rhythm section was born, Skalstad and Flaten instantly bonding. Originally a guitar and drums duo, Tom and Axel met in a guitar shop in Kongsberg, a town in southern Norway famous for it's annual jazz festival since 1964, and recognised for its experimental and innovative profile. Jørgen was invited to join them for the sessions that resulted in their self-titled debut album in February 2014. Two more albums followed in 2015 and 2017. Tom Hasslan – guitars Axel Skalstad – drums Jørgen Mathisen –
saxophones Ståle Storløkken - Hammond organ and keyboards Ingebrigt Håker Flaten – bass.