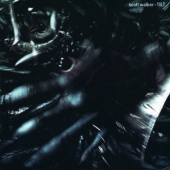 Walker Scott
Tilt
Label: Mercury
Genre: Rock / Pop
Availability
LP x2 180gr +MP3 COUPON €28.99

In Stock
Tilt is the twelfth studio album by the American solo artist Scott Walker. It was released on 8 May 1995 and reached number 27 on the UK albums chart. No singles were released from the album. It was Walker's first studio album in eleven years.

Walker composed the songs for the album between 1991 and 1992 except "Manhattan" which was written in 1987 and the final song "Rosary" which was composed in 1993. The album was recorded at RAK Recording Studios and Townhouse Studios in the UK and its release had been expected as early as 1992 but was not completed until 1995. The album is the first installment of a "trilogy" that went on to include The Drift (2006) and Bish Bosch (2012).

The songs on the album have a decidedly bleak, forlorn and funereal mood; the lyrics are replete with arcane allusions and recondite wordplay and ellipses. Like Walker's previous effort, Climate of Hunter (1984), Tilt combines elements of industrial music with European avant-garde and experimental influences. The unusual literary, musical and performance qualities of Walker's songwriting and singing are reminiscent of the lieder and "art song" traditions — forms which long predate the era of recorded popular music and electronic media.

The compositions emphasize abstract atmospherics over harmonic structure, with minimalist, slightly discordant "sound blocks" and trance-like repetition rendered through carefully nuanced instrumentation and sparsely deployed sonic effects. Walker's voice resonates in a cavernous echo, taking on a haunted, distant, desolate quality, which one reviewer characterized as "Samuel Beckett at La Scala".

In addition to a core lineup of musicians playing rock instruments, the recording also features contributions from the Strings of Sinfonia of London and the Methodist Central Hall Pipe Organ, which were arranged and conducted by frequent collaborator Brian Gascoigne. Tilt is also notable for being a now-rare[dubious – discuss] instance of a contemporary musical recording which was actually recorded live in the studio without the enhancement of any electronic sample-based synthesis or guide tracks.