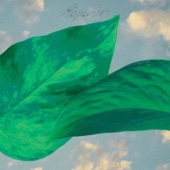 Resavoir
Resavoir
Label: International Anthem
Genre: Jazz / Avant Garde
Riding the ripples of their debut single "Escalator" (which BBC's Gilles Peterson called "a winner," and Supreme Standards' Tina Edwards likened to "Radiohead on a Jazz trip"), Chicago collective Resavoir return with their first full length effort. The self-titled album presents a juicy suite of elegantly-orchestrated lo-fi jazz instrumentals germinated from home recording experiments by the group's producer/arranger Will Miller. Applying a compositional approach attributable to his experience producing hip-hop beats as much as his studies at Oberlin Conservatory, Miller built melodic sketches on foundations of samples & loops before bringing pieces to the group for collective development. After integrating recordings of the full band into his home-produced impressions (not unlike IARC predecessors Jeff Parker and Makaya McCraven), he overdubbed another dozen friends into the mix (including Brandee Younger, Sen Morimoto, Carter Lang, Knox Fortune and Macie Stewart) before finalizing the arrangements. In Miller's modest editing room, Resavoir grew from experiment into epic opus recalling the lush, psychedelic soul jazz orchestrations of David Axelrod & Charles Stepney… but in the sampled-laden style of Yesterday's New Quintet, Broadcast, or Thundercat, with a lyrical affinity for minimalism & texturalism, like trumpeter/composers Jon Hassell & Justin Walter.

…about Resavoir…
Resavoir is a diverse collective of instrumentalists – most of whom are Chicago born & raised, some of whom have been playing together since high school, all of whom represent exciting new directions in Chicago's fertile contemporary jazz & creative music scenes. The core lineup features Will Miller on trumpet/synths, Irvin Pierce on saxophone, Akenya Seymour on keys/vocals, Lane Beckstrom on bass, Peter Manheim on drums and Jeremy Cunningham on drums. All highly active players, the band's compiled resume includes collaborations with Noname, Chance the Rapper, Makaya McCraven, Jeff Parker, Saba, Nick Mazzarella, Mavis Staples and many more.

The group is led by the composing, producing & arranging work of Will Miller, a trumpeter by trade who, thus far, is most known as a member of the band Whitney, or for his brass cameos on tracks by Mac Miller, Lil Wayne, Eryn Allen Kane, Twin Peaks, A$AP Rocky and Xavier Omar.