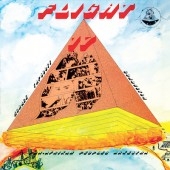 Tapscott Horace With The Pan-afrikan Peoples Arkestra
Flight
Label: Outernational Sounds
Genre: Jazz / Avant Garde
Availability
LP x2 €32.99

Out of Stock
First formed as the Underground Musicians Association in the early 1960s, Tapscott always wanted his group to be a community project. From its base in Watts, UGMA got down at the grassroots. They played for the people, organising fundraisers in parks and coffee houses, hosting teach-ins and workshops for young and old, and mixing it with radical theatre groups, firebrand poets, political radicals, Black separatists, community groups and churches. They lived communally, supporting each other and their people, and built an ark for the Black arts in the heart of the city. The group was renamed the Pan-Afrikan Peoples Arkestra in 1971, and soon after they established a monthly residency at the Immanuel United Church of Christ which ran for over a decade, while still playing all over Los Angeles and beyond. But through all this, they never released a note of music.
It was the intervention of Tom Albach, a fan of Tapscott and the group, that finally got them on wax. Determined that their work should be documented, Albach founded Nimbus Records specifically to release the music of Tapscott, the Arkestra, and the individuals that comprised it. The first recording sessions in early 1978 yielded enough material for two albums, and the first release was Flight 17. From the surging avant-gardism of Herbie Baker's opener to the laid-back summertime groove of Kamonta Lawrence Polk's Maui, or Roberto Miranda's uptempo Latin jam Horacio, Flight 17 showcased the radical voices of the Arkestra's members.
Available on LP for the first time in forty years, in a lovingly re-created gatefold sleeve, adding two tracks never before on vinyl, this is the first flight on wax of the West Coast's foundational community big band — energised, hip and together.
Open up the gates and prepare for departure!