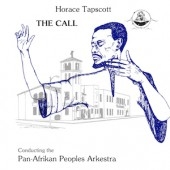 Tapscott Horace With The Pan-afrikan Peoples Arkestra
The Call
Label: Outernational Sounds
Genre: Jazz / Avant Garde
One of the unsung giants of jazz music, the composer, bandleader, arranger, pianist and community activist Horace Tapscott was the undisputed keystone in the grassroots Los Angeles jazz scene. Throughout the 1960s and 1970s, his radical community arts and music formations the UGMA (Underground Musicians Association, later changed to UGMAA – Union of God's Musicians and Artists Ascension), and his protean big band, the Pan Afrikan Peoples Arkestra, were at the epicentre of music, culture and politics in the Los Angeles area.
From their 1960s base at the Watt's Happening Coffee House on 103rd St, to their decade-plus-long 1970s residency at the Immanuel United Church of Christ on 85th E St and Holmes Ave, Tapscott's groups were the beating heart of underground music in LA. Hundreds of musicians passed through and played their part. Major figures in LA jazz such as Arthur Blythe, Azar Lawrence, Jimmy Woods, John Carter, Bobby Bradford, Sonny Criss, Ndugu Chancler and dozens of others all paid dues or just got down with Tapscott, not to mention the core Arkestra regulars who have since become celebrated names – Nate Morgan, Jesse Sharps, Adele Sebastian, Dadisi Komolafe, Gary Bias, to mention only a few.
Tapscott and the Arkestra were down on the ground – playing fundraisers in park and street, organising teach-ins and workshops for young and old, mixing it with radical theatre groups, firebrand poets, political radicals, Black separatists, community groups and churches. They lived communally, and built an ark for the Black arts in the heart of the city. But as a result of this grassroots community focus and Tapscott's antipathy to the music industry, the Arkestra didn't record for nearly two decades. That only changed when long-time jazz fan Tom Albach started Nimbus Records. The label was initiated specifically in order to document Tapscott and his circle, and the first three records showcased Horace and the Arkestra.