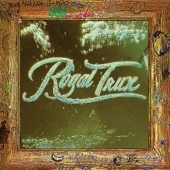 Royal Trux
White Stuff
Label: Fat Possum
Genre: Rock / Pop
Availability
Other Formats
When they finally parted ways- following the release of Pound for Pound in 2000 - they did so just as they do everything: spectacularly. Their hiatus lasted 15 years, with little to no communication between them in the interim. It was to their fans enormous surprise - and delight - that they announced a run of new shows in 2015. Shortly after the release of their live album Platinum Tips + Ice Cream in 2017, they inked a new deal with veritable Mississippi indie Fat Possum. As part of that deal, earlier recordings from Royal Trux were reissued, many of which had been absent from streaming services. With the catalog readily available, and the appetite for the live shows undiminished, Jennifer and Neil recorded White Stuff - their first new material in in 19 years- on the industrial fringes of Los Angeles in the summer of 2018. The new music delivers all of the intoxicating alchemy one would expect from Royal Trux. Their lengthy recording break has done nothing to diminish their visionary, visceral intensity and enduring influence.
Die-cut, embossed cover.

Royal Trux have done as much to define the look, attitude and sound of rock & roll as any other group in the rock & roll era. This is due to their Bitches Brew approach: "everything in the pot whether you like it or not," deriving from world music, punk rock, jazz, metal, electronic, southern, teeny-bop and all the rest. In the tradition of the blues, through appropriation and evaluation, Royal Trux changed the way we think of music — it is no surprise that their Truxian language has been further absconded with and recited uncredited for years. Such organic perpetuation only happens with original thought worthy of its own definition. This was and is Royal Trux: innovators and dedicated lifers among the sounds they love. Odds are, whether you know it or not, if you find yourself reading this you've been touched by Royal Trux. But only in the right places!