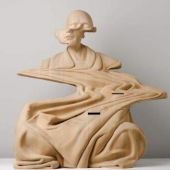 Mt. Mountain
Cosmos Terros
Label: Cardinal Fuzz
Genre: Post Rock / Avant Rock
Cardinal Fuzz (Europe) and Little Cloud Records (N.America) are proud to present to you Mt. Mountain - Cosmos Terros. Originally released in 2016 only in Australia, Cosmos Terros was 18 months in the making and the 6 songs immerse you in the harmony/discord and minimal/maximal theme that plays out here - It is both menacing and meditative as Perth natives Mt. Mountain create explosions in slow motion.

Stephen Bailey's ethereal vocals capture you in a hypnagogic trance on which the band rides a slow burning haze on grooves a mile deep as tracks play as a continuous sonic idea, each one ebbing and flowing until they explode into an apocalyptic climax.
Since the release of Cosmos Terros Mt. Mountain have become laurelled and revered with fans the world over and with November 2018 seeing the release of Mt. Mountains long awaited 3rd LP - Golden Rise, this repressing for Europe and USA of the long sold out Cosmos Terros is the ideal primer for those waiting to fall under the spell of Mt. Mountain.

Cosmos Terros is presented in a 320gsm gloss lamented sleeve with insert and download code.