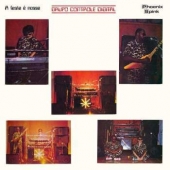 Grupo Controle Digital
A Festa E Nossa
Label: Soundway
Genre: Freestyle / Nu Jazz / Funk / Afro
Soundway Records delivers a beautifully remastered reissue of Brazilian duo Grupo Controle Digital's only album, "A Festa E Nossa". First released in 1988, the album is now housed in a tip-on heavyweight sleeve with restored artwork.

With the title track "A Festa E Nossa" having recently circulated the last few years in the DJ sets of influential tastemakers, the album has become highly sought after by electronic fans and collectors alike. Lo-fi synths and cruising bass lines permeate the record, influenced by the group's Brazilian contemporaries at the time such as Tim Maia, Claudio Zoli, Secos E Molhados, and rock outfit Made In Brazil.

Band members Billy Jaguar and Gel Valiery regularly performed in various groups in Sao Paulo throughout the 80s and 90s, but after Gel passed away, Grupo Controle Digital was no more - the band and the album faded into obscurity and Billy became a priest, working with gospel music.