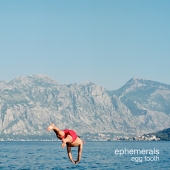 Ephemerals
Egg Tooth
Label: Jalapeno
Genre: Freestyle / Nu Jazz / Funk / Afro
Availability
LP €7.99 Nice Price

Out of Stock
Unafraid to push boundaries, ephemerals' third album, egg tooth, explores new directions: their modern soul and R&B songs now tinged with flavours of jazz, afrobeat, psychedelia and bluesy cinematic orchestral arrangements.

With influences ranging from Nina Simone to Kate Tempest, Steve Reich to Alice Coltrane, egg tooth sees songwriter Hillman Mondegreen and singer Wolfgang Valbrun combine beautifully, marrying direct and honest lyricism with powerful vocal delivery.

It's an album with recurring themes of rebirth, love, world politics and philosophy in a varied and eclectic collection of songs - an eclecticism perhaps a reflection of ephemerals diverse backgrounds: the singer Wolfgang is a New Yorker living in Paris, the writer in Nottingham, the sax player lives in France, while the keys, trumpet and rhythm section are in Bristol, Sussex and London.