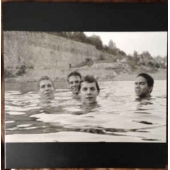 Slint
Spiderland
Label: Touch And Go
Genre: Post Rock / Avant Rock
Availability
LP 180gr +DVD +MP3 COUPON €26.99

Out of Stock
Spiderland is the second and final studio album by the American rock band Slint. It was released on March 27, 1991, through Touch and Go Records. Featuring dramatically alternating dynamics and vocals ranging from spoken word to shouting, the album contains narrative lyrics that emphasize alienation. Spiderland was Slint's first release on Touch and Go, and the group's only album to feature Todd Brashear.

Although Spiderland was not widely recognized on its initial release, it eventually sold more than 50,000 copies and became a landmark album in underground music after Slint broke up. The album has been influential on the styles of many bands in the post-rock genres.

+ 12-page full-size book.