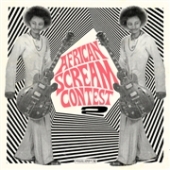 Various Artists
African Scream Contest 2
Label: Analog Africa
Genre: Freestyle / Nu Jazz / Funk / Afro
Availability
LP x2 +MP3 COUPON €29.99

Out of Stock
A great compilation can open the gate to another world. Who knew that some of the most exciting Afro-funk records of all time were actually made in the small West African country of Benin? Once Analog Africa released the first 'African Scream Contest' in 2008, the proof was there for all to hear; gut-busting yelps, lethally well-drilled horn sections and irresistibly insistent rhythms added up to a record that took you into its own space with the same electrifying sureness as any favourite blues or soul or funk or punk sampler you might care to mention. Ten years on, intrepid crate-digger Samy Ben Redjeb unveils another treasure trove of Vodoun-inspired Afrobeat heavy funk crossover greatness. Right from the laceratingly raw guitar fanfare which kicks off Les Sympathics' pile-driving opener, it's clear that 'African Scream Contest 2' is going to be every bit as joyous a voyage of discovery as its predecessor. Like every other Analog Africa release, 'African Scream Contest 2' is illuminated by meticulously researched text and effortlessly fashion-forward photography supplied by the artists themselves.
TRACKS:
01. Les Sympathics De Porto-Novo - A Min We Vo Nou We
02. Ignace De Souza & The Melody Aces - Asaw Fofor
03. Stanislas Tohon - Dja Dja Dja
04. Elias Akadiri & Sunny Black's Band - L'Enfance
05. Picoby Band D'Abomey - Mé Adomina
06. Antoine Dougbé - Nounignon Ma Kpon Midji
07. Orchestre Poly-Rythmo De Cotonou - Moulon Devia
08. Black Santiago - Paulina
09. Lokonon André & L'Orchestre Les Volcans - Glenon Ho Akue
10. Sebastien Pynasco & L'Orchestre Black Santiago - Sadé
11. Super Borgou De Parakou - Baba L'Oke Ba'Wagbe
12. Cornaire Salifou Michel & L'Orchestre El Rego & Ses Commandos - Gangnidodo
13. Gnonnas Pedro & His Dadjes Band - How Much Love Naturally Cost
14. Orchestre Poly-Rythmo De Cotonou - Idavi
Includes 24-page LP size booklet.