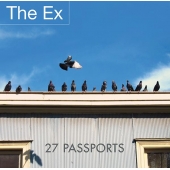 Ex
27 Passports
Label: Ex
Genre: Post Rock / Avant Rock
Availability
CD Digi / Cardboard €16.99

Dispatched within 5-10 working days
Other Formats
"We always start from zero when we make a new album. We enter the rehearsal room with a few loose ideas, a riff or a beat and see what happens. There is always the risk that it doesn't work out. That risk is part of our music and of our lives."

The Ex.

"The Ex released their previous regular studio album as a 4-piece (Catch My Shoe) in 2010. While that might seem like a long stretch, their schedule since then tells you another story. The band also released a second album with Ethiopian legend Getatchew Mekuria, and another one with Brass Unbound, featuring several of their friends from the realm of free improvisation. On top of that, there were also a few 7″ split-singles, several phenomenal birthday festivals and a lavish photo book that was published as a tribute to the late Getatchew Mekuria in 2016.

But now there's new music. 27 Passports contains 10 songs. Two of these ("Soon All Cities" and "Four Billion Tulip Bulbs") have been a part of their set for a while, but the others have only recently been road-tested, right before the four of them returned to the studio to capture that unmistakable "Ex energy". The three-pronged guitar approach is still as exciting as ever, with the guitars of Andy Moor, Terrie Hessels and Arnold de Boer creating tense, interlocking webs of connections and drummer Katherina Bornefeld pushing the band with dancing, hypnotic patterns.

There are some remnants of their African adventures, but most of all, this is a return to the power of The Ex as a unit that effortlessly juggles noisy/disjointed guitar parts, trance-like grooves, defiant chanting and a relentless, infectious drive. Colourful and fierce at the same time, 27 Passports once again expands their horizon and enriches their sound, while remaining true to the core of their philosophy: Forward In All Directions!"

Guy Peters, Geraarsbergen, 2018.