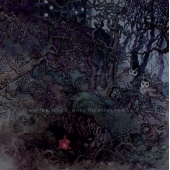 White Birches
When The Street Calls
Label: Progress
Genre: Electro / Electro-Rock
Availability
LP + CD €18.99

Out of Stock
Other Formats
White Birches (Jenny Gabrielsson Mare and Fredrik Jonasson) have already released on EP and one album and are for sure no newcomers in the scene. Their fantastic mixture of darkwave / electronic music painted in an dark atmosphere has already gained them a strong fan base. And with the new album "When The Street Calls" it will for sure bring them to the next level.

White Birches on the new album:
In April 2015 the dark wave duo White Birches released their critically acclaimed debut album "Dark Waters". An album nominated for "best synth" at the Swedish "indie grammy" Manifestgalan. On February 9th they finally release their second and much anticipated album "When the Street Calls".

White Birches started working on the album in the summer of 2016 and from early on it was clear the duo wanted to look even further into the dark world of their debut album. Words like dystopia, powerlessness and apocalypse was always present. What if Trump would win the American president election? What if Europe is succumbed to the populists of the far right? What would the world look like then? White Birches wanted to paint a distorting mirror of a world where despots rule and those who do not fit in perishes. A dystopia. In the fall of 2016 Donald Trump won the election.

− Now, to just create a soundscape talking of doom and destruction felt irresponsible, Fredrik Jonasson says. We had to take another route.

On the album the duo remains in the end-of-the-world-mode they had created but in the center of the story stands an underground resistance movement. A movement of poets and witches, of the rural queer, of anarchists and lovelorn rebels.

− After the American election hate crimes against transgender people, people of color and against Muslims are on the rise. This is no coincidence. When the official hate increases so does the violence, Jenny Gabrielsson Mare says. But marginalized people will resist. We have no other choice.