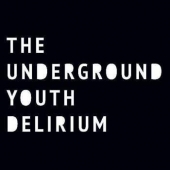 Underground Youth
Delirium (Fuzz Club)
Rock / Pop
Availability: In Stock.
Other Formats:
Delirium' was the fifth LP from cult psych/post-punk outfit The Underground Youth, who formed in 2008 and are currently based in Berlin. Originally released in 2011 London-based imprint Fuzz Club are reflecting on the bands extensive back-catalogue and repressing the 12" with a brand new CD reissue.
'Delirium' harks back to The Underground Youth's earlier psychedelic sound, offering minimalistic and bluesy psychedelia at its best. The album is an unapologetic ode to Craig's musical heroes, dining on an influence from the likes of Spacemen 3, The Velvet Underground and BJM in its haunting psych instrumentals and beautifully crafted vocals and lyricism that fall somewhere between Bob Dylan and Ian Curtis.