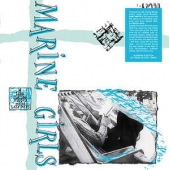 Marine Girls
Lazy Ways (Tiger Bay)
80s Wave / Rock / Pop / Punk
LP 180gr €19.99
Sorry, currently out of stock.
Produced by the Young Marble Giant's leader Stuart Moxham, LAZY WAYS is the second and last album by the seminal post-punk band from Hatfield (UK), the Marine Girls.
Despite the short life of the band, Alice Fox, Jane Fox, and Tracey Thorn (Everything But The Girl) have left an indelible mark on the music history. Listed as one of Kurt Cobain's favourite bands of all the time, the Marine Girls – with their unique DIY and twee style – can be counted among the fans people of the likes of LCD Soundsystem, Kathleen Hanna, and Courtney Love.