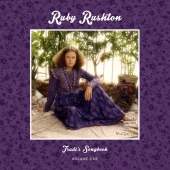 Ruby Rushton
Trudi's Songbook: Volume One
Label: 22a
Genre: Jazz / Avant Garde
Availability
CD Digi / Cardboard €15.99

Out of Stock
I first came across Ruby Rushton in 2011 when I saw them play live at a pub in south London. I was mesmerised by their performance that night. The music they were playing was fresh and exciting; it was unlike anything I had heard before! Soon after that night I happened to pass the sax player in the street, I stopped and asked what plans he had for the band, to which he replied "album soon come..."

It was four years before I heard that album. Recorded in 2011, 'Two For Joy' finally got its much-anticipated release via the 22a imprint in 2015 and it did not disappoint! Since then the band have had a number of gigs around London and Europe, including their celebrated Boiler Room appearance and a number of headline shows at London's Jazz Cafe.

Now into 2017 the band are preparing to release their second studio album, 'Trudi's Songbook.' Compromising of two parts, volume one will be released in May and volume two later in the year. I was given an exclusive preview of volume one and I can say with certainty that it is their finest work to date and one of the greatest recordings I have heard in a... long while.

The album starts with 'Moonlight Woman,' a song that harks back to the Headhunters era, but with a contemporary twist - close your eyes and your transported to 70s Harlem, walking shoulder to shoulder with Richard Roundtree! 'Elephant & Castle' follows, a clear reference to south Londons Latin quarter, the tune has a distinct hustle and bustle quality. With a strong flute solo and upbeat rhythm section this tune is sure to have you clapping your hands and stomping your feet. The first side draws to a close with a tasteful Dilla inspired skit, 'Trudi's Mood,' which demonstrates the bands wealth of influences and leaves the listener eager to continue their sonic voyage, with Ruby Rushton at the helm.
Side two opens with a haunting ballad, 'Prayer For Yusef,' a song written in memory of the late Yusef Lateef. It starts softly with a bowed double bass and bamboo flute, accompanied by ghostly percussive noises and slowly rises to a large crescendo, with drums and piano in tow. It's a strong tune and a fitting dedication to the late, great Yusef Lateef. No sooner has Lateef's ballad gently faded away then 'Where Are You Now?' kicks in. Starting with a cool, neck-popping 3/4 beat, and utilising a four-piece horn section, the rhythm section struts its stuff whilst flute and trumpet carve out a playful melodic line. Just as you settle into its hypnotic bounce the tune falls through a Monk inspired chromatic bridge and without warning reappears as a solid Latin groove, leading to strong solos from both sax and keys. The rhythm section charges through to the end, never lagging, and are rejoined by the four-piece horn section, which stabs its way to a tight finish. The album comes to a close as 'The Camel's Back' fades in with an eerie sax solo and free form drums, before settling into a catchy bass motif and quickly fading away, leaving listeners on the edge of their seats and wanting more. It's a great ending to an intoxicating joy ride through a multitude of genre defying styles!

Simply put, this album is a must have for any listener yearning for exciting and fresh contemporary music. Essential listening for fans of Kamasi Washington, Yussef Kamaal and GoGo Penguin.

Words by Rodriguez Guido